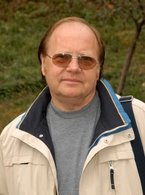 Ilm not writing for children so that they fall asleep by reading or listening to my texts… On the contrary, if they hop on the wooden horse, turning my book, "Comforting hands", into a reign, itls great…
I started creating worlds where all is possible when my children, with s'eepy eyelashes were asking me to tell them stories. I had the same character every evening, Ionuț, and a Blue Bird that would bring good kids bundles of warm sky in its beak. Then, words would start flowing and swinging, not on a piece of paper but on the cheeks of Cezara Codruța and Emilian Cosmin, blushing, one more than the other, depending on the adventures in the story. Once in while, Ionuț would get lost in the forest. Then, my little travelers, ready to fall asleep, oh God, how they would keep their little hands folded and their eyes kindled, hoping against hope that Ionuț would find his way back home.
Later on, I started jotting down the texts of the stories; though I didnlt like the story caught on the notebookls wing, as in an insectarium. I liked those stories in the mind, which I would start but never knew how they would end…
Then, when Cezara and Cosmin were reaching almost to my shoulder, I started writing intensely about Ionuț and the Blue Bird, trying my best not to unweave the swallow nest - theirs and the charactersl. I wanted them to stay… there… longer. Only when they were in that place did they ask me if from my shoulder, by stretching their hands they could touch the sky.
Then, they were no more…
I started writing poems about spelling and punctuation signs, amongst which the question mark winding in the verse like ivy.
Where do They, The kids, go to?
Ilm searching for an answer, across the seas and the countries… and if I find it, I will tell you about it…!
Until then…?
I like to see children forget about the world, in the noise of their toys, I like to see how they want to be grown-ups, even holding their head in their hands, gloomy, how they ask their parents for the moon in the sky, sometimes, how they are obstinate in getting to the finish line first, etc.
I saw them yesterday… as well as today…
Of course, they were older…! Ilm really writing this story…!