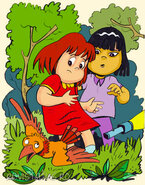 She borrowed my pajamas, as we are the same height, and away she went to the toilet, so as not to stick out in case she met someone from the household. She left her enchanted balloon with me, the one with which one could travel at night only. Apparently, my s'eepy dad has scolded her for drinking too much tea in the evening. When she returned, I got dressed; we both hung ourselves from the balloon and went on the search for the charmed prince. Ayako had it all written down on paper. In a forest known only to her, we were supposed to catch an ugly toad and give it a kiss, between midnight and half-past-midnight. It would transform immediately into a handsome prince. This is what the book said, and we had no reason to doubt its teachings. The more ugly the toad, the better…
In the forest I had to keep my teeth c'enched to keep them from c'attering. It was pitch dark and one could hear the branches crackling with a terrifying noise. A bird opened its wings right on our lantern, and kicked it one metre away. Luckily, it hasn't turned itself off. All of a sudden we came upon what we thought was a toad, with big eyes and with a mouth as big as a s'ice of watermelon, but Ayako didn't think it was ugly enough. With a stick, she turned it with its belly up and whispered:


"See, it's got no bumps, it's a frog, not a toad".
So we kept looking.
Well, finally we found one that suited, ugly enough. We both leaped in the air with joy. It was big and wide, like a succulent pear crushed by a truck. It only had one eye, with cold skin, s'obbering, and as an additional ornament, his belly was full of small orange dots, like some disgusting fish eggs. It had a real itchy rash. The time was twelve twenty-five. The first one to kiss it, with much emotion, was Ayako. As it wasn't showing any visible signs of transformation, she handed it over to me.