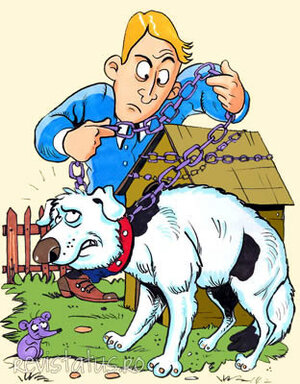 I ran as fast as I could to get him out of the yard; as I was pulling at the leash to force him out, for he wouldnlt obey my orders, uncle Gabils head as longish as a champ, with a high cap on it, appeared at the attic window. God knows how long he had been hiding there, poor man, not venturing to come out. Suddenly I felt I was warm and I took off two of the three pullovers I was wearing. Lest he should go on fooling around, I chained up Baruc. The chain was long enough to allow him to move. Baruc would turn around the kennel until the chain almost strangled him, so he would start to yelp and I had to roll him over so that he could break loose.
My wife Alma and I set ourselves to pull down an old ruined shed. Uncle Samu called on us, a bottle of fresh milk in hid hands. He sat down on a pile of wood and watched us work. Baruc was struggling fiercely in his leash.
- You got yourself a dog as big as your own fear, he said and began to explain why the dog was raging and fuming against them. Samu was Gabils brother and his lands, our lands and Gabils as well, had once been part of the same piece of property which had been divided among three brothers.


Baruc, standing right on the middle lot, felt that the lands around belonged to his master, yet they were trodden by aliens. Their fatherls dog felt that way too, just like the dog of their brother who had dwelled in that house, and the dog of the nephew from whom we had bought the land and any dog that would have stayed in that yard would have acted in the same way.
I was just jumping on a beam to fell it when, looking up, I saw Baruc running around, dragging the kennel through the garden, where tender green shoots and shrubs were sprouting here and there. The hook to which the chain was attached was broken so I had fixed it to the kennel. My wife rushed along and tried to hold Baruc but she couldnlt.