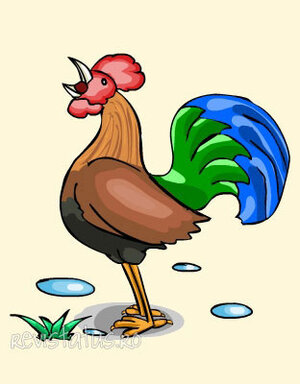 - "What did that cat toil to be s'eeping in so late?"
"The hamsters, morose because of the bad weather and the back pain caused by carrying sacks with provisions off the fields, answered with their mouth half c'osed:
"- "That cat doesnlt work, doesnlt even carry grains, like we do. The master lays the food under her mouth basically!"
"The hens started to cockle:
- "Maybe shels about to lay eggs?"
"And the rooster said: "
- "Ha-ha, cats donlt lay eggs like you, nor do they sing like me!"
- "Oh, shut up, it is your fault!" said the others, "You donlt sing loud enough in the mornings for everyone to hear you and wake up!"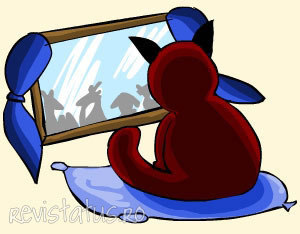 - "Whaaat? The master wakes up only at the sound of my cock-a-doodle-doo, which is loud enough to be heard three miles away. His watch can break, but my voice wonlt fail." Then the rooster shouted a cock-a-doodle-doo so sharp and loud that those around him covered their ears and the cat turned on the other side. The rooster shouted once more, even louder, and then the two windows split into thousands of cracks. The cat jumped terrified, saw all those faces at the window, and bristled her tail. Angry at the dog for making a fool of her, showing everyone what a lazy animal she is, the cat decided to take vengeance.
The following day, the cat went to talk to the dog, and approached him wreathing her branchy tail around his foot:
- "Look, this is what Ilm thinking, when the owner leaves and lets you roaming around the courtyard, come inside the house and s'eep in that warm and soft huge bed. But pay attention; firstly, make sure that you wash your paws like I do, because otherwise you will get me in a lot of trouble."