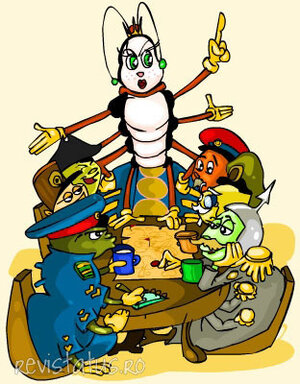 The caterpillars that were acting as generals had their names changed to pompously sounding names suitable to their rank.


The name-change pattern was to use an even number, of at least twenty, followed by 'legs' and linked to another word that would be a nice descriptor, and the numbers would grow by two legs or stripes, according to their acts of heroism and battles won, each leg symbolizing an additional stripe. So far, the late general was the only one to have reached the seventy legs level.
After the death of her parents, Princess Myrmidone was spending her time in council with the three generals in the military reserves and twelve counselors, considering how to go about saving the kingdom from the gray locusts.
However, for the last three hours, the debates were focused on the names of the generals. The names of the three generals were Twenty-Two-Light-Legs, Twenty-Two-Running-Legs, and Twenty-Four-Omniscient-Legs.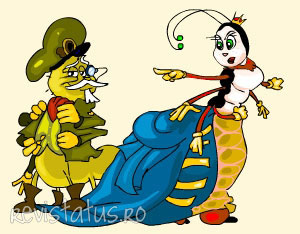 They all c'aimed that in the last battle they have accumulated a lot of legs; however the tree beetles that served as observers fell from the trees and did not take notes of the events.
"Let it be absolutely c'ear," said Myrmidone, "That your names will remain unchanged until the next battle."
This statement caused a wave of murmurs between the three generals and the counselors and they became very impertinent following the events of the last battle. The Princess looked at them in disbelief, her lips dried and she wanted to get up and adjust her skirt, but General Twenty-Four-Omniscient-Legs was holding one of his legs on her lap.