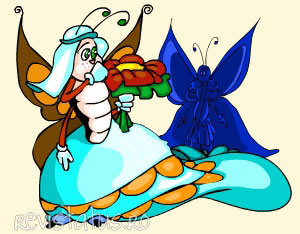 Myrmidone and the council had to choose others to replace them.
At about the time the wedding was about to take place, Myrmidone entered the Butterfly Temple, but the groom was not there. She remained facing the altar, her head turned towards the door, to where the folds of her long robe reached. In front of the altar, she waited motionless, for many, many minutes, while the temple was full of bustle and whispers. Suddenly, through the massive door entered a butterfly with black wings with orange circles. It was Hop-on-Flower, who just got out of his chrysalide.
A big party started in the caterpillar's kingdom. The groom embraced the bride and took off with her to a quince bud.