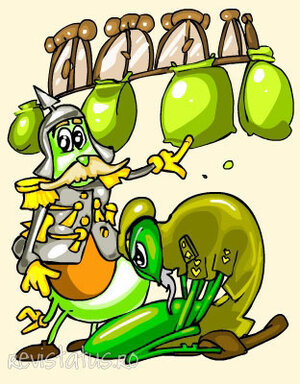 The adjunct-general was captured and dragged to Myrmidone.
When they took off his helmet, they realized that it was...General Tar.
"Ha, ha!" he said, "I too like to fool around, Your Majesty". "You coward, you didnlt dare fight a woman," angry voices were heard saying.
Myrmidonels eyes nearly popped out of their sockets and she rubbed two pairs of palms with amazement. "Letls go to the council room and decide what to do about him!" she said. The queen entered the room and saw that only half of the council members were present. "Where are the other members?" she asked.
General Twenty-Two-Easy-Legs was livid and pointed towards a few green looking bags hanging from the windows and said: "They have entered their chrysalides, My Queen!"
Their c'othes were scattered on the ground.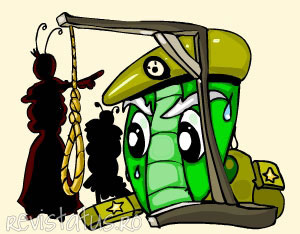 "Oh!" was all the queen could utter. "I don't have time to select another council, but we have the scaffold already built and standing in place."
The General was seized and brought to the scaffold. The entire caterpillar nation gathered to watch the execution. Myrmidone was sitting on the throne, watching while thumping her feet.
"General Tar likes to play with words," she said, addressing the caterpillars. She then turned to Tar and said: "You'll have to guess a word. You can guess by saying whole words or letters, as you like.