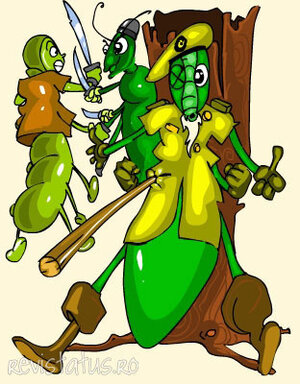 Myrmidone did not wait for the General to come near, and immediately threw the spear and pinned him to a tree trunk.
"Now, set Hop-on-Flower free," said Myrmidone to the adjunct-general locust. The adjunct-general locust saluted and said: "General Tar has to set him free, but since he is pinned down he cannot do that".
"How's that? Our understanding was that if he was defeated or killed, the locusts would set him free," said Myrmidone.
The adjunct-general opened her letter, which he has kept rolled under his belt and pointed with his gloved hand: "You have not specified what happens in case he was dead."
"Hmm…" Myrmidone realised that he was trying to find a pretext. Who could be so cunning in the gray locusts' kingdom?"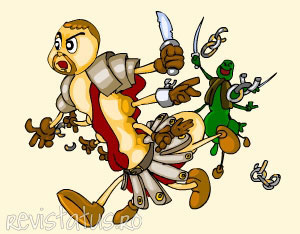 The caterpillars were trampling their feet eagerly. Captain Thick-Fluffy signaled to attack, while General Twenty-Two-Running-Legs shouted: "Brothers, this could be our last battle. For our Queen Myrmidone, attaaaack!"
That was what the caterpillars were waiting for. They fought with ferocious pleasure spearing the locusts and pinning them to the trees, so much so that the orchard started to look like an insectarium.