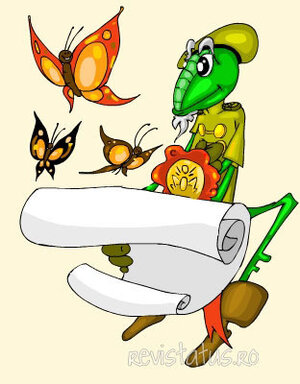 General Tar was lifted on to the chair. "A?"
The noose was put around his neck.
"TT?"
Myrmidone signaled and the caterpillar entered the two T's in the word. "You are entitled to one more guess," she said. Tar fretted and rubbed his wings. "Hmm, itls a word all the caterpillars know, itls something of their own, but what could it be? What?" he thought to himself; and then he said: "Butterfly."
The crowd burst in cheers. A caterpillar c'imbed on the scaffold and freed him from the noose. He bowed and was allowed to leave, and after signing a document that he will never again spear butterflies, he sealed it with the personal seal he always carried in his coat.
Myrmidone announced that within two hours her marriage with General Thirty-Legs-on-Flower would be officiated. In the fortress the preparations have started. But Myrmidone was worried because changes were occurring.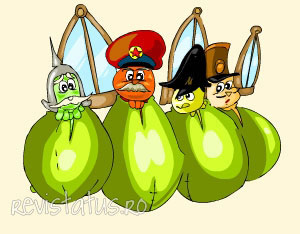 As they were growing older, the caterpillars were becoming butterflies and were leaving Bud. The soldiers, captains and generals, all hated metamorphosis. What's this stupid game of playing butterfly? They lose legs (retaining just six out of sixteen), become frail, with wings that are easily damaged, they cannot drink wine, binge or put on weight, and most importantly, they cannot fight with spears and use heavy bark shields. They would be beautiful though, but who needs beauty? But it was not up to them. Wailing, the famous generals with tens of legs entered their chrysalides.