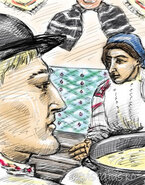 I went back inside. The hideous girl was at the fireplace stirring the pot, while from the stove one could smell a stew made with unknown herbs growing up on the hills known only to the local women. Strangely, I thought about my childhood. My mouth was watering. The old cow wanted to get married then. Were her sisters making mamaliga as well? They were nowhere in sight. What if I randomly picked hers? Could I be that unlucky? Then some thoughts crossed my mind. There were girls that rejected the suitors.
Could the suitors reject the girls? And if so, what would happen to them? If the stubborn girls turned into cows, were the stubborn boys turning to... oxen?
I went to the village at around noon.The mamaliga dishes were presented on a long table, covered with towels and the young men were circling around. They were tossing their hats, looking, tasting. Each mash had a sign underneath and that sign was recorded in a register kept by the village chief, so there was no place for cheating. Besides the mamaliga, the girls prepared other foods that could be eaten with the mash, like stuffed cabbage rolls, sauerkraut, or rabbit-and-partridge stew, and of course, there were plenty of glasses full of the local plum brandy, tzuica.


I was very hungry, since the suitors were not getting any food on that day. I looked at all of the mamaliga dishes, but they were not different from one another. I saw there were also cold and hard mamaliga dishes, as the young boy said, and realized this was no joke.
I saw a suitor picking a mash. Immediately its owner appeared, a very beautiful girl, and I was very envious. Another man picked a mamaliga mash that belonged to none other than the hideous girl's nice sister, the one that I liked. Angry at how lucky those two got, I quickly picked a mamaliga mash and immediately my host appeared holding the hideous one by her hand and said "Congratulations, young man!" and the hideous girl grinned, showing her long portruding teeth while fixing her dull hair with much haughtiness. I think my face turned black.